Remote monitoring of refrigerated containers and jensets from Global Container Service
NEW on the Ukrainian market - Remote monitoring modem from the Global Container Service company.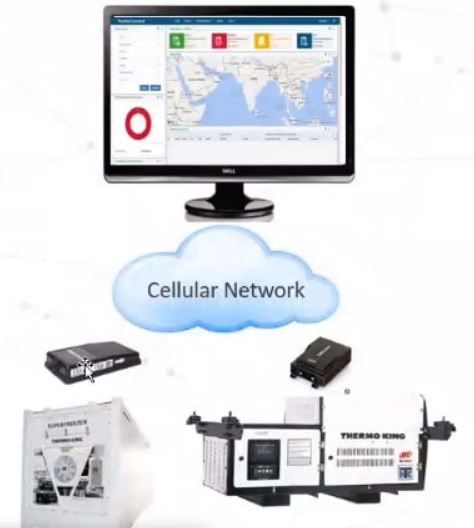 Remote Monitoring from GCS is a remote communication tool designed for reefer containers and outboard diesel generators. It is a combination of industry standard communications with wireless long distance data transmission and tracking technology.
When it is not possible to install a local monitoring system, our system will redirect all incidents, such as accidents, power outages / resumes as they occur, to the global monitoring service.
And also monitoring from GCS will provide the transfer of a complete set of data at specified time intervals to the global monitoring service. Bluetooth interface that allows quick and painless updating of the container software over a wireless network, as well as data collection or data transfer to another container. Each container equipped with a monitoring system from GCS is able to send information on its conditions or accidents to local monitoring systems. or a global service.
In addition to monitoring, this system can be used to remotely control various capabilities of the ref container, including firmware updates, temperature changes, PTI testing or defrosting.
GCS monitoring has several advantages such as:
Complete transparency of the cooling process
Improved disposal of condensate in a container
Reducing risks from potential damage to cargo
Reduced maintenance costs by eliminating local inspections
Provides the ability to monitor the current state of the refrigerated container and track on ships, warehouses and land transportation.
Centralized remote control of operator conditions, alarms, events, settings and positions
Autonomous battery for operations with de-energized container
Compatible with refrigerated containers of any manufacturer and year of manufacture
Refrigerated container temperature notifications
Refrigerated cargo control solution detects temperature fluctuations - connected generator required
When connected to a refrigerated container, it sends commands to activate the generator
Reports data from the generator set
Cost-effective hardware solution with low power consumption and long service life
Its small form factor and flexible design makes it ideal for generator sets.
Supports serial integration to smart generators as well as analog / digital sensors for standard generator sets.
Monitoring equipment device:
Robust industrial IP 67 format
Built-in cellular, BLE and GPS antennas
Industrial Global LTE / 3G / 2G SIM Card with Optimal Cellular Operator
BLE capability for local wireless connectivity to chassis ID and diagnostics
Lithium battery ... 120 days of power reporting
Accelerometer and motion detector
Firmware updates over the air for the device
Serial port with intelligent controller
Interface
Analog and digital I / O
Direct reporting of fuel gauge
Capabilities:
Minimizing unforeseen events such as container hacking, burglary, travel delays
Accident notification and prediction
Control of the set temperature regime of the container
Control of all indicators of the container (humidity, temperature, O2 and CO2)
Optimization of actions with a reefer container with a reduced risk of human error
Saving energy due to the relevance of the updated software of the ref container, which initiates the operation of the ref container in the most efficient energy saving mode
Track and monitor your refrigerated container in real time - anytime, anywhere
Prompt notification via EMAIL / SMS
Possibility of built-in tracking module for positioning and geographic location on land
Bluetooth interface for quick software updates wirelessly or downloading new software
ISO 10368 Power Line interface for compatible local monitoring systems
Digital optional port for door opening
Control service - measuring the speed of reaching the desired temperature regime
Timely notification of all critical situations or pre-emergency conditions
Setting up automatic notifications and full reporting for a given period of time
Logging of all events occurring with the refrigerated container
Painless software update
The simplest WAM installation due to the fact that all ref containers are prepared for remote monitoring
Monitoring device requirements from GCS:
The device will have a serial connection to the refrigerator via a 5-pin connector.
All protocols are required to collect data
One or two digital connections
Fuel sensor
Analog connections with sensors for other devices
Turn on / off
Below you will find a list of problems that GCS monitoring will help to solve:
Continuous monitoring, prevention of accidents and pre-emergency situations
Guaranteed control of the conscientious maintenance of the equipment by involved third-party masters.
Instant notification of all significant changes (for example - Notifications about temperature violations, power outages, etc.)
Optimization of energy costs
Remote start of PTI test
Remote container management
Reducing the cost of "HANDLING" goods
Resolving disputes with suppliers of perishable products