Services for line companies
One of the key services provided for line companies is the following:
1) Storage of containers at our terminal with the ability to connect to the network 380.
2. Management / Rent of diesel generators for reefer containers
3. Service of reefer equipment and body works, not requiring certification, for reefer containers.
4. Preparation for export and import / PTI for Refcontainers
A list of our advantages in these areas that may be interesting to you:
Our company has developed web interfaces to support all major business processes involving linear and forwarding companies, which allows you to build transparent relationships based on a clear electronic document flow.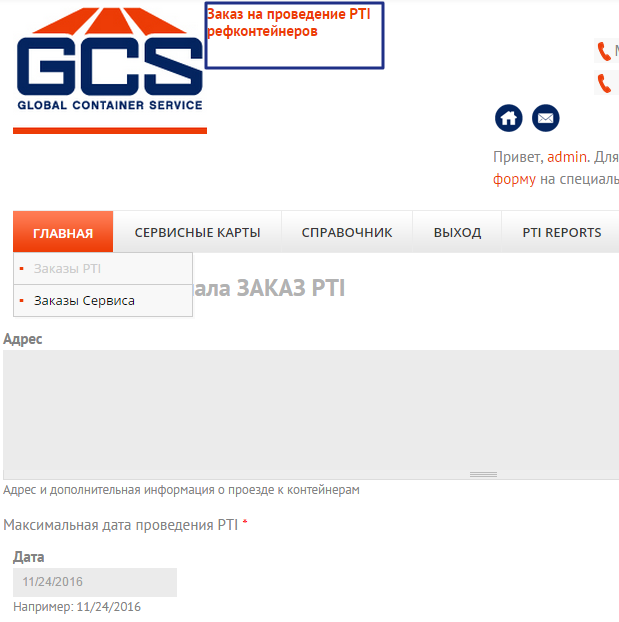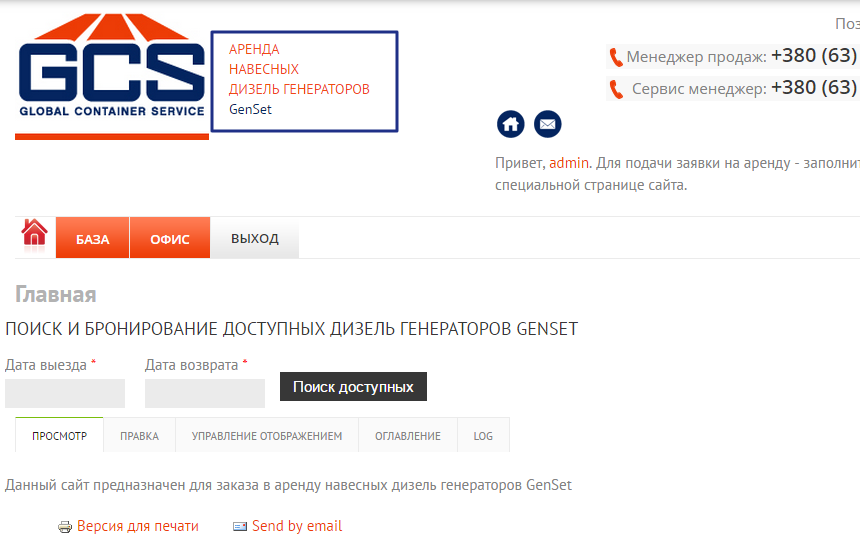 Beginning from the main advantage, which is a complex approach and providing the highest quality and complete service package of our activities, I can highlight the following advantages in each of the areas:
1) Storage and connection
We provide a full range of services related to storage, maintenance and connection to the power supply of reefer containers.
At your service the container terminal (Odessa, street Industrial 41a).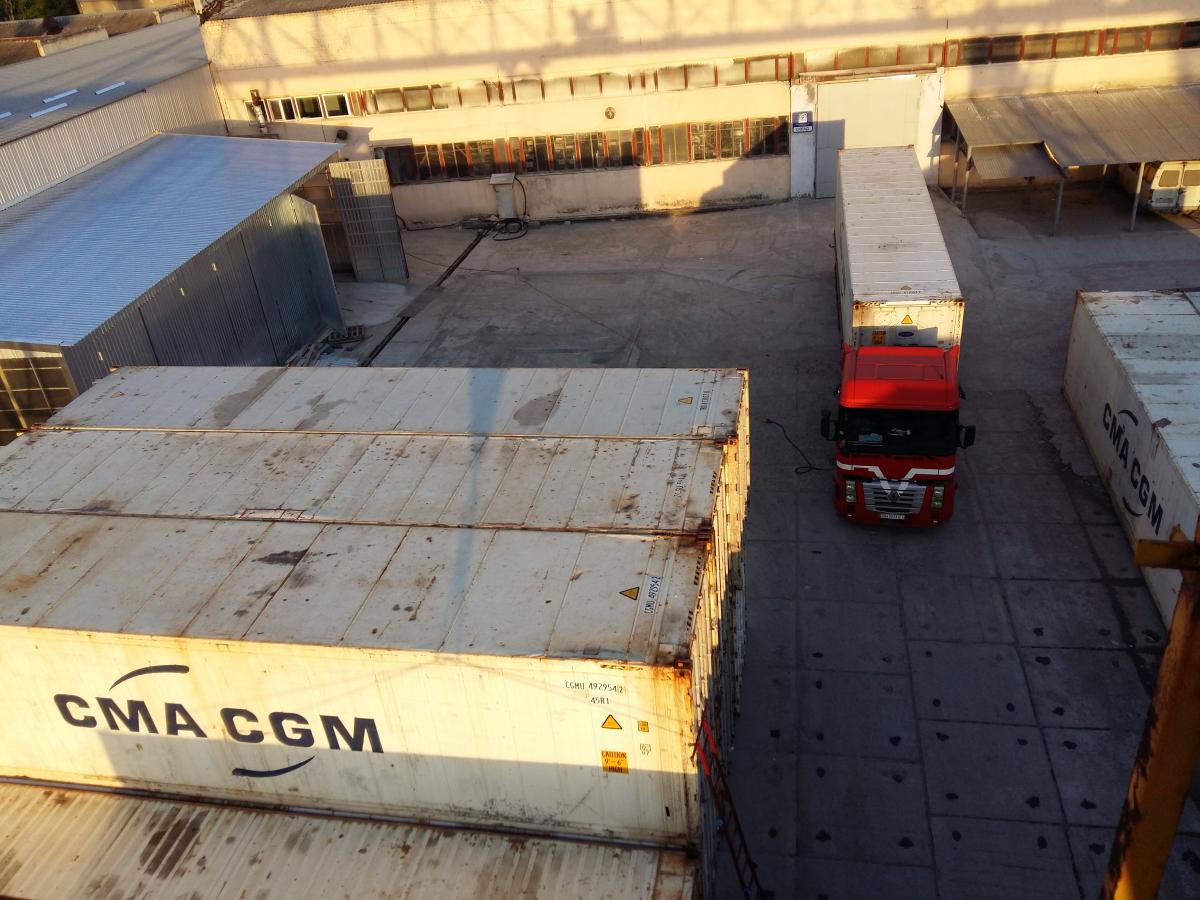 For placement and storage of reefer containers with and without connection - Convenient access by truck transport, for implementation of the PRR.
First month of accommodation of each of the containers - free of charge
The cost of one PRR operation 12 USD, including TAX.
The terminal accommodates more than 110 units of 40 ft containers and 60 units of 20 ft containers.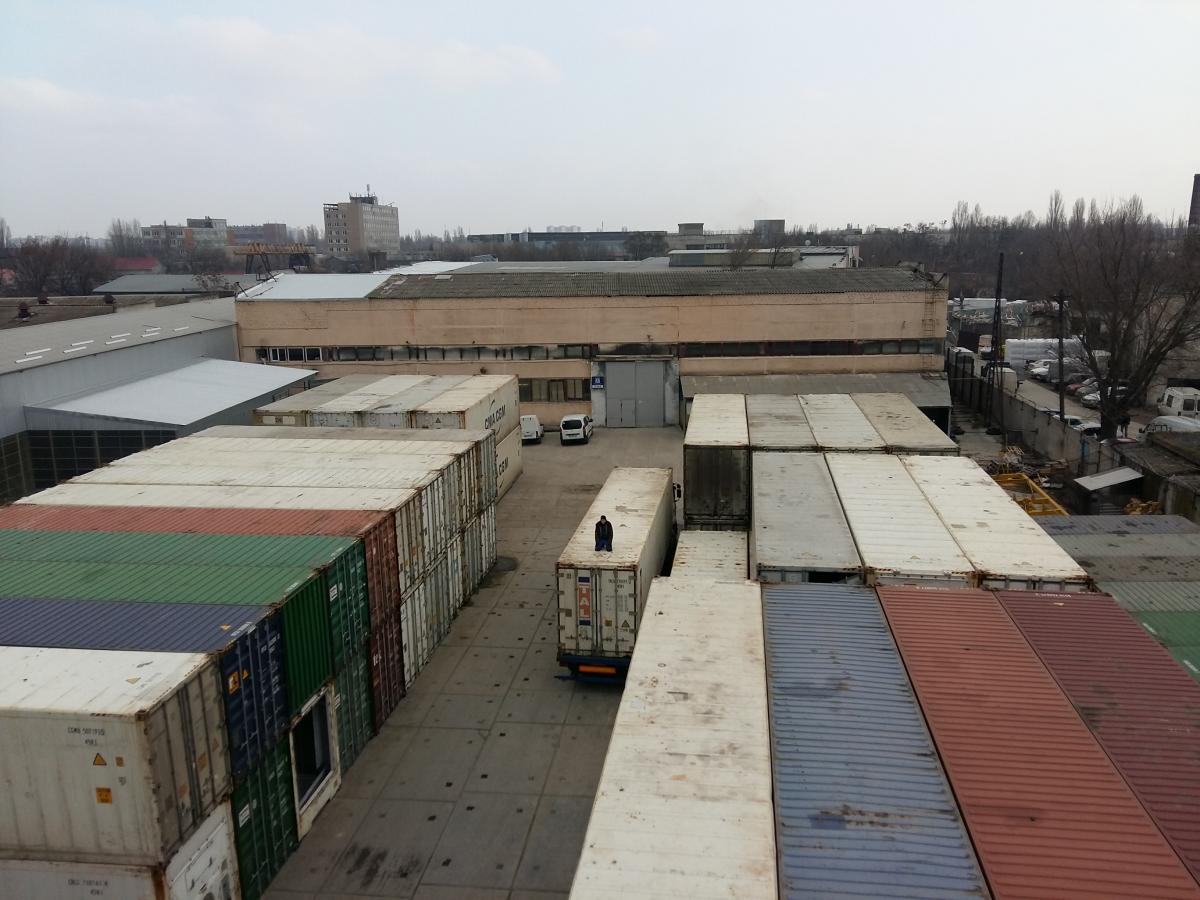 Reception and delivery of containers is carried out from Mo-Fr from 8:00 to 20:00, and on Saturday from 8:00 to 17:00.
By prior request, terminal opening time is 24/7 for liner and freight companies.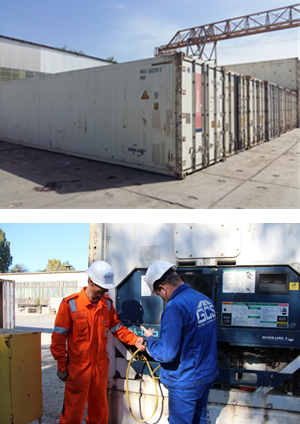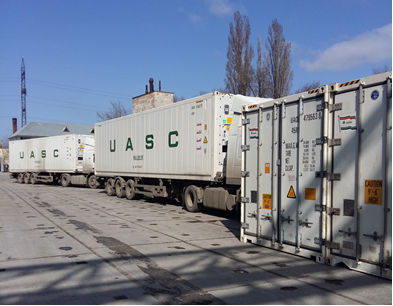 Our territory is guarded 24 hours a day and equipped with video monitoring cameras, which ensures 100% safety of containers.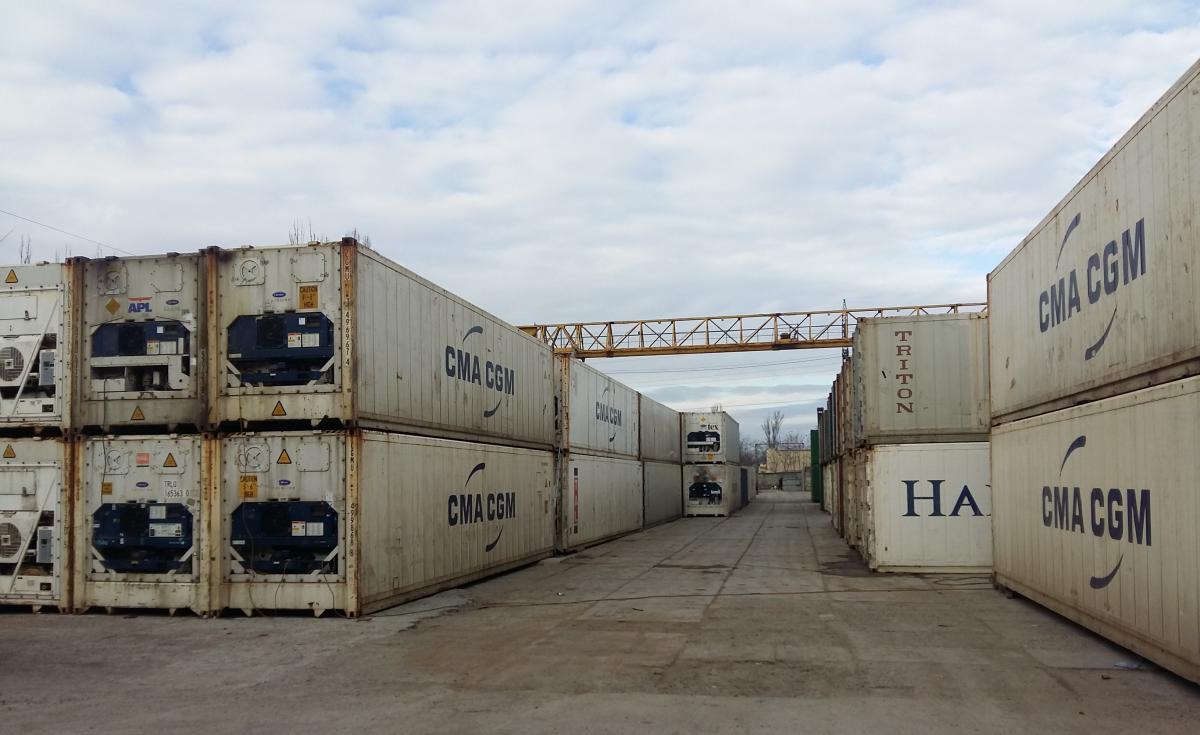 Our company provides the service of connecting reefer containers to the power supply network, with the ability to monitor the work of containers 24 hours a day. The terminal provides the possibility of single connection of up to 14 refcontainers (380 V). Each socket has its own electric counter, which allows you to connect a reefer container with a temperature load and keep track of electricity consumption for each connection separately. On our terminal the qualified personnel works, the terminal is equipped by the crane with the forklift, it allows quickly to provide quality services PRR and stuffing cargo.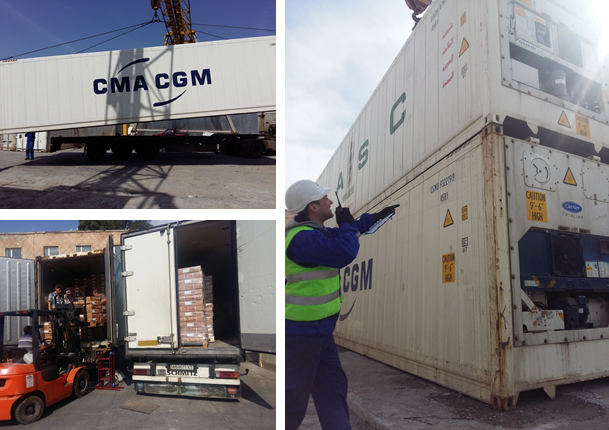 - we have an advantage over other terminals, both in efficiency of service and price;
- we already have containers stored by such liner companies as CMA-CSM and UASC.
2. diesel generator rent/management
Our stock of generators consists of 27 units, eight of which can be attached to reefer container fittings.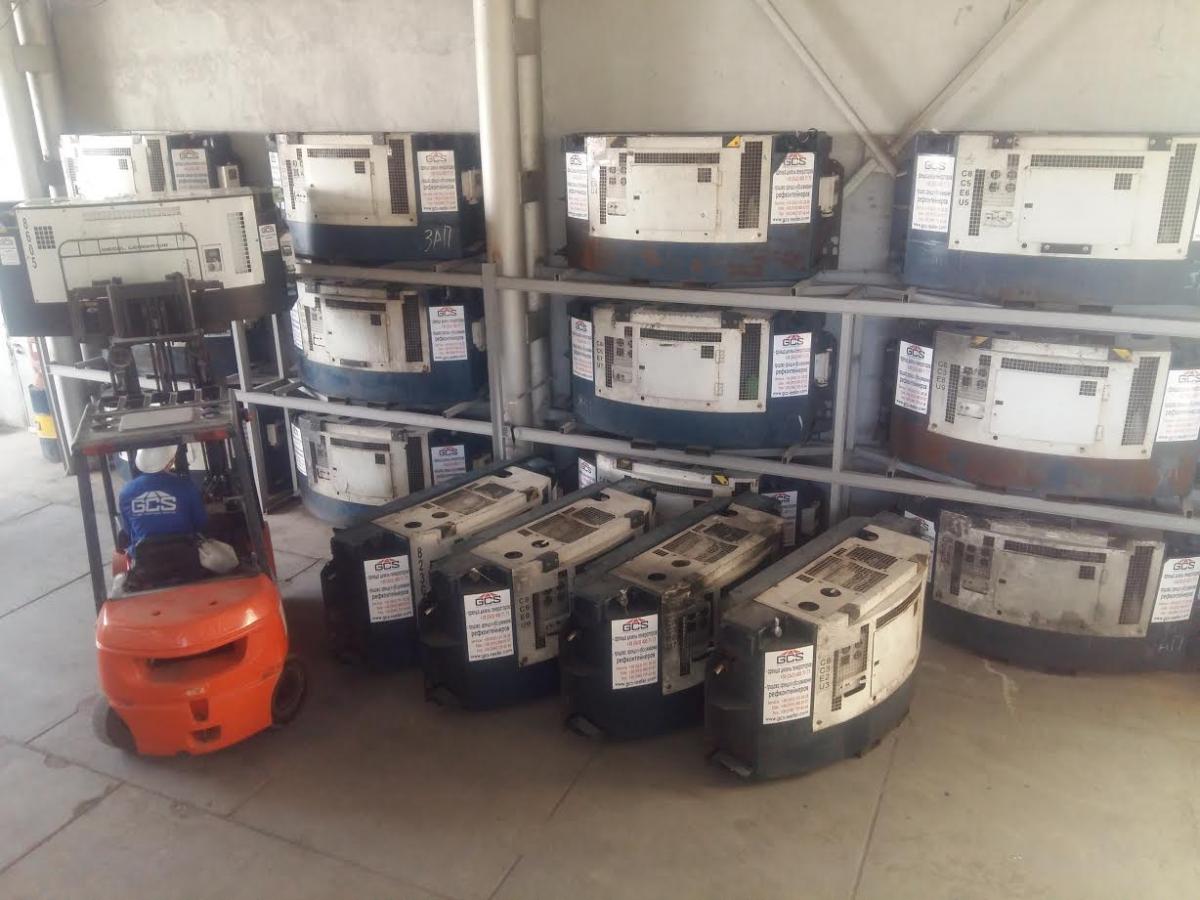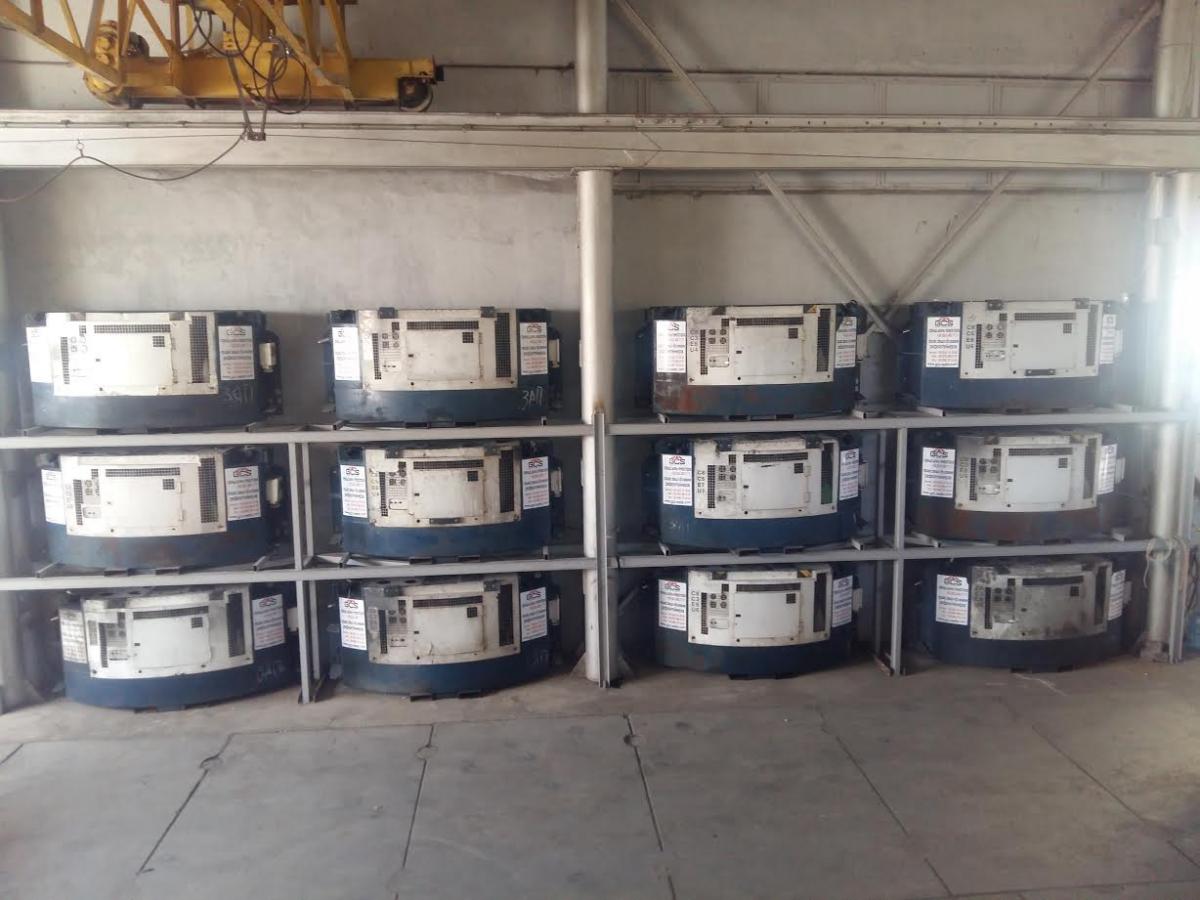 We have a complete team of employees for operative delivery, receiving generators at our terminal.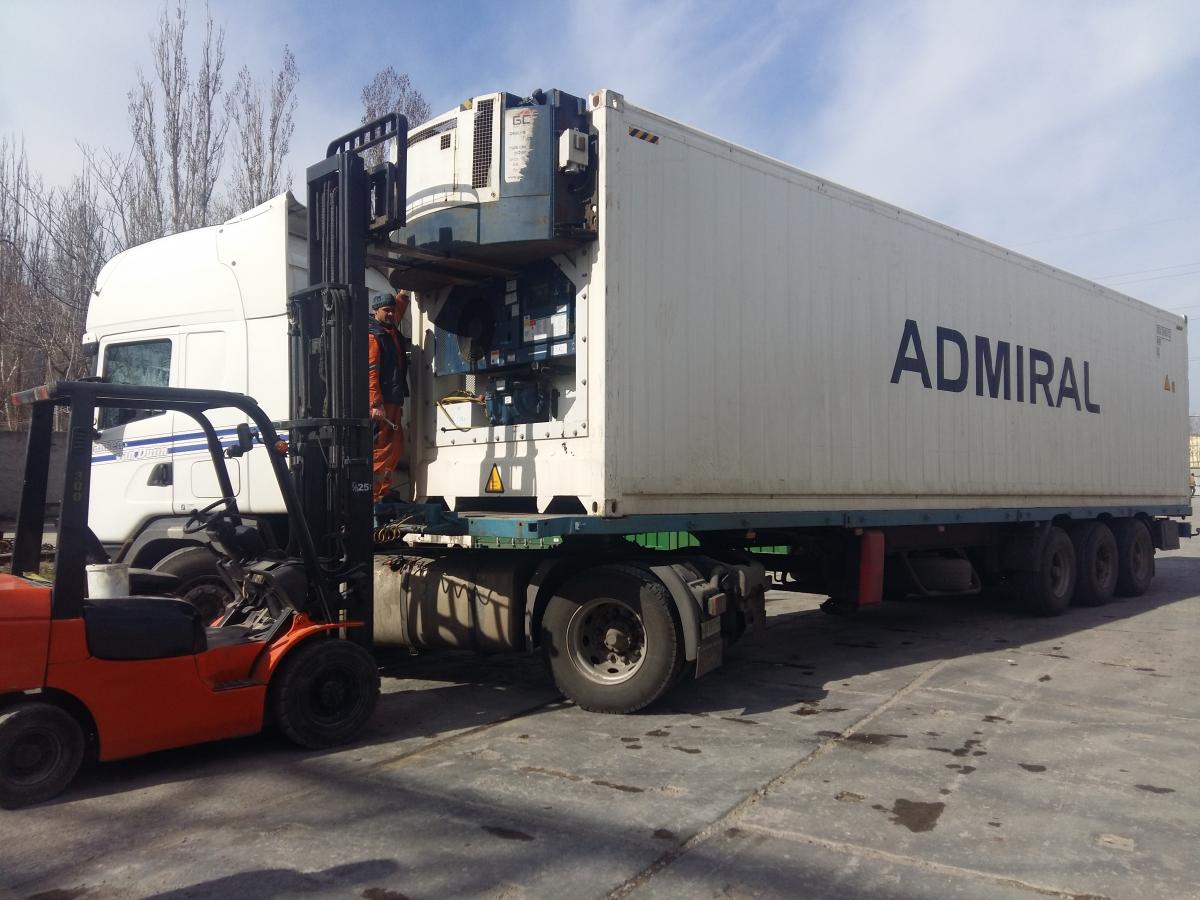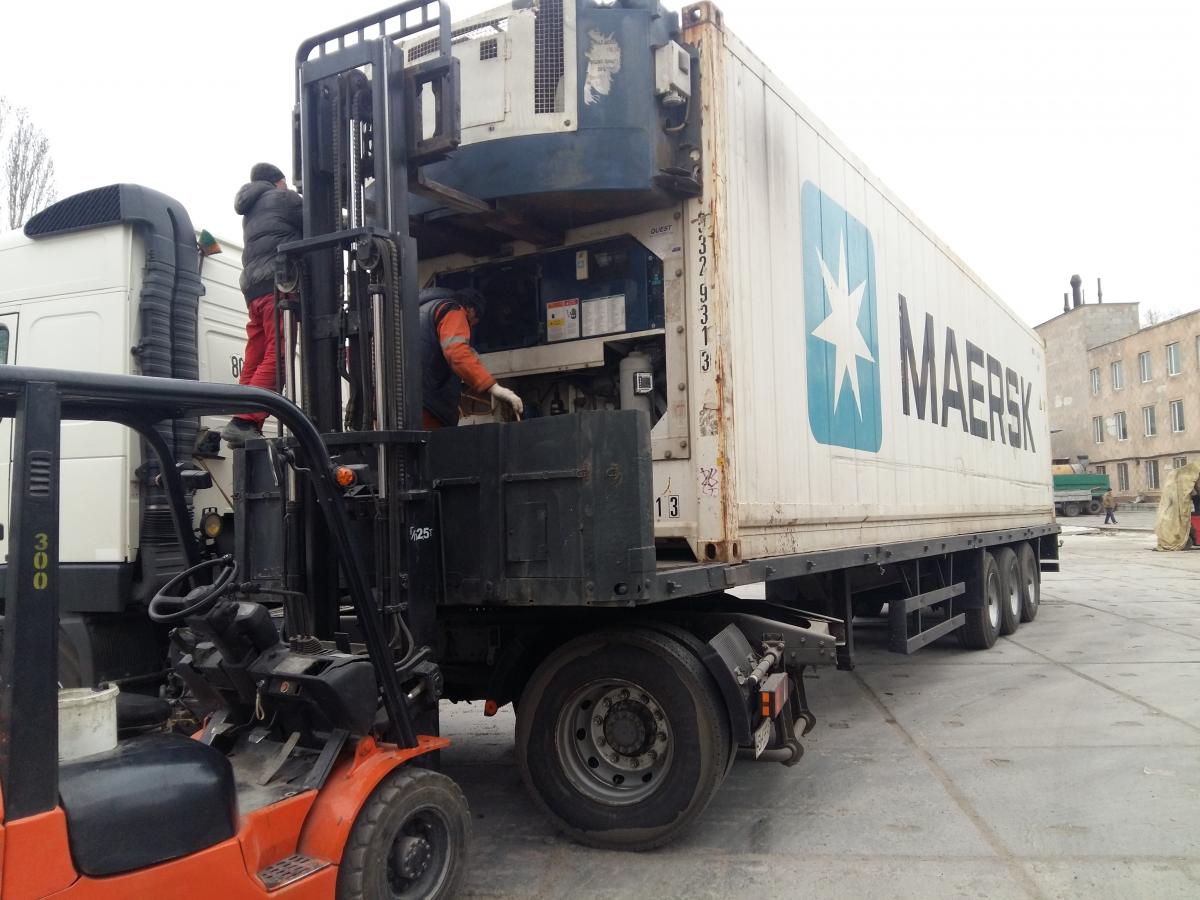 We also have experienced mechanics to repair minor breakdowns, overhauls of diesel engines and rewind generators.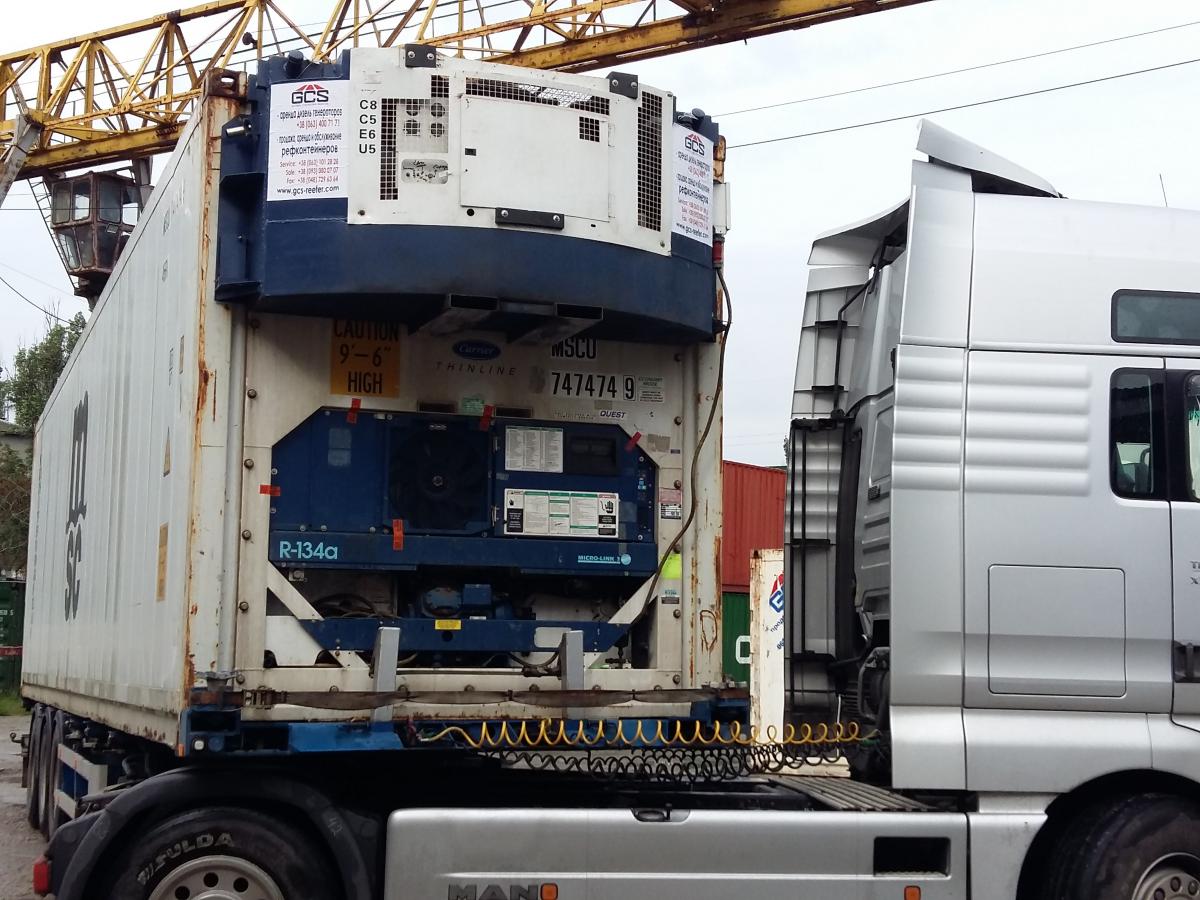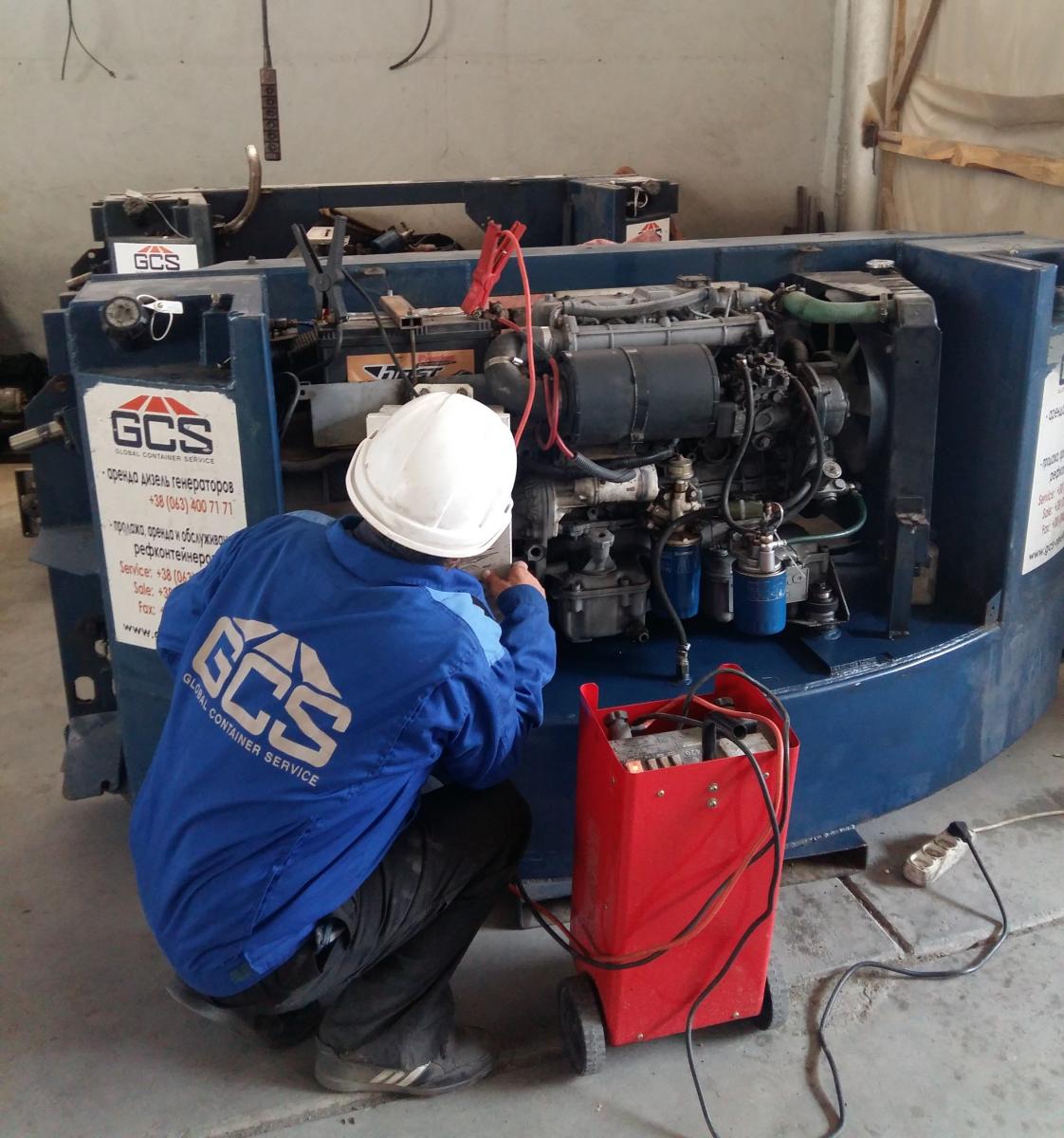 We have a clear, well-established interface to monitor all processes with remote access for customers. The interface includes the ability to check the number of diesel generators available and a clear diesel generator schedule calendar: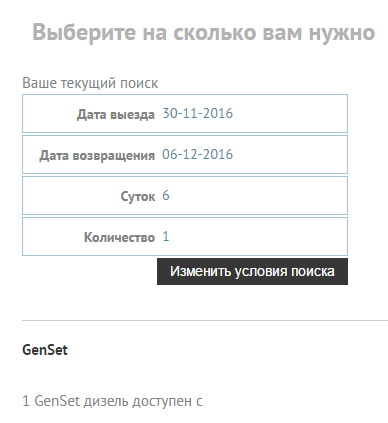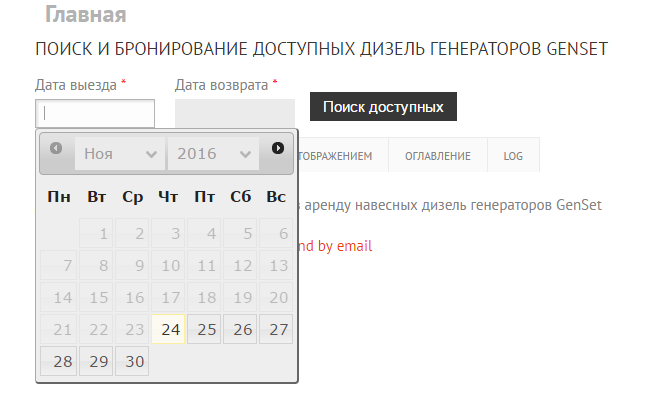 - the ability to quickly apply using our website, check the status of an application during the trip, fix and control fuel at the time of issue of a generator and at the time of its return,
- preparation of the act (electronic document with the driver's signature) in case of the generator failure in the trip or the fuel consumption does not correspond to the running hours in the trip, as well as other non-standard situation, which allows to objectively find out the causes of the non-standard situation and promptly respond to them.
-support from Carrier and ThermoKing manufacturers
Four years of successful work in the market of generator rental and 76 linear and freight companies carry out transport companies trust the quality of our service.
Receiving and delivery of diesel generators is carried out from Mo-Fr from 8:00 to 20:00, and also on Saturday from 8:00 to 17:00. By preliminary request, the terminal opening time is 24/7 for linear and freight companies.
We give an opportunity to rent diesel generators for reefer containers at the following prices:
Rent of diesel generators Rent 6 days 150  usd.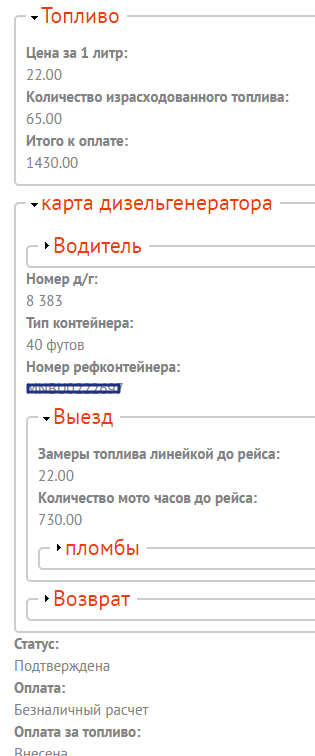 Management of diesel generators
We offer to consider placing your generator park at our terminal in a dry hangar and providing the following services for the management of your generator park:
-Mounting and dismantling of generators on your request.
-Filling of generators and accounting of fuel consumption in our developed system.
-Mutual accounting of fuel consumption with the customer.
-Current maintenance of generators (check of generator performance before and after the trip), replacement of oil, antifreeze and all filters.
- Maintenance and fixation of all processes in our system with the possibility of your access and control over all processes.
The cost of generator management 12 usd without TAX.  The amount of 12 usd. includes storage of generators in a dry hangar, installation, removal of the generator (2 options), filling the generator, the settlement of fuel with the customer, ongoing maintenance (does not include the cost of filters and oil, antifreeze), maintenance and fixation of all processes in our system with the possibility of your access and control over all processes.
Generator repairs are not included in the management cost and are discussed separately.
When providing services for diesel generators, we work exclusively in accordance with the standards recommended by leading manufacturers (ThermoKing, Carrier), this concerns both the calculation of time for each of the works of the manufacturers, and the cost of spare parts. We can also provide non-original parts, which can significantly reduce the time and cost of repairing your generator.
 The cost of repairing generators 12 usd per hour.
3. Repair and maintenance services
When providing our services, we provide all services for repair and replacement of equipment of any of the manufacturers Carrier, Daikin, ThermoKing, StarCool, from the replacement of freon to the complete replacement of the main spare parts of the reefer unit.
At equipment replacement we are ready to offer both used spare parts, and remanufactured (updated at the factory) and new spare parts.
We also carry out housing works that do not require additional certification.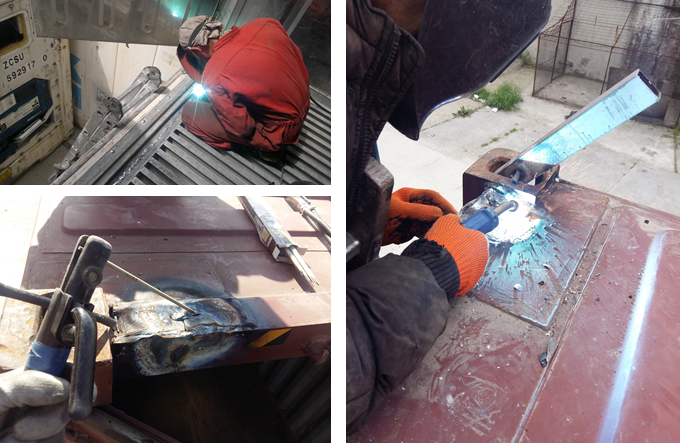 When providing services, we work strictly according to the standards recommended by leading manufacturers (DAIKIN, StarCool, ThermoKing, Carrier), this applies both to calculation of time for each of the manufacturers' work and the cost of spare parts.
As official dealers, our company is the only one in Ukraine, can offer a price quote for all new parts. 
We are also official dealers of StarCool and Daikin companies, as a result of which we get constant feedback from manufacturers on software updates and other innovations and changes from manufacturers. We have and maintain close contact with other manufacturers of reefer containers, which allows us to provide quick access to the full range of new spare parts that we may need during repairs. At the moment we have confirmation from Carrier and ThermoKing about successful passing the inspection and authorization to get the dealership in Ukraine.

4. PTI
Preparation for export and import inspection, PreTripInspection (PTI).
As for PTI we provide this service in the ports of Chernomorsk, Yuzhnyi and Odessa ports, as well as in most major cities of Ukraine.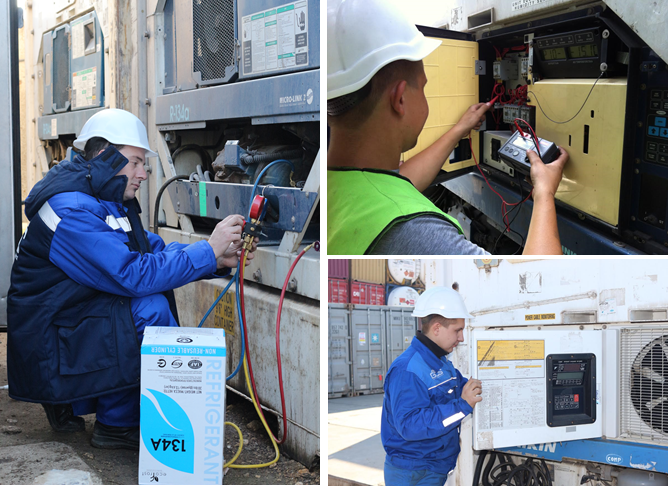 We fully follow the recommendations of the reefer manufacturer and the customer in the process of this procedure, and confirm the fact of PTI for the linear company with electronic reporting on conducted PTI and electronic reporting with the preservation of history for each container in the personal cabinet.
400 UAH full PTI without TAX
In addition, in this area we provide a web interface that has its own office with transparent reporting and the ability to quickly make decisions (rus /en ) on each of the containers with the preservation of history of communication and decision-making.