Catalog
Reefer containers catalog
Spare parts
Reefer units
Carrier units
ThermoKing units
Reefer units - Daikin
Clip-on GenSets
Diesel generators ThermoKing
Additional equipment
Services
First of all, when purchasing a reefer container, customers pay attention to its size. If you supply a small cargo, a 20 foot refregerator container is ideal for storing it. Its main advantage is its functionality. Unlike a 40-foot container, it doesn't take up much space. In addition, a 20-foot container can hold a lot of cargo. When you buy one 20-foot refrigerator container, you get a refrigerator + warehouse for your cargo.
External parameters:
- Height - 2,6 meters; - Length - 6 meters; - Width - 2,4 meters
Internal dimensions:
- Height - 2,3 meters; - Length - 5,6 meters; - Width - 2,3 meters.
When transporting a 20-foot refrigerator, you can significantly save on transportation costs. It does not require large vehicles. In addition, unloading and loading a 20-foot refrigerated container does not take long. It requires an average of 4.5 kWh, keeping temperatures from -25 degrees to +25 degrees. Global container service reefers are suitable for small loads.
All refragirator containers undergo customs clearance as well as pre-sale preparation, which is confirmed by a PTI unloading file. It should be noted that all refrigeration equipment is equipped with the latest software updates to save energy and adjust the motor resource of the compressor. The 20-foot reefer container set includes original and universal spare parts.
The refractory container allows first of all to realize mobility. Despite the fact that it is a complex technical equipment, it is very easy to use. As a rule, there are no problems with the refrigeration unit control. By the way, our company can provide printed instructions in Russian for additional payment.
Refcontainer can be connected to an autonomous diesel generator and three-phase network 380V/50 Hz. To purchase a Refcontainer, you need to go to the section on our website and select the desired product. Please leave a request and write to us to contact for detailed information.
GCS is a company specializing in the sale and service of refrigerator containers.
The priority is to provide our customers with quality and reliable equipment of world brands such as Carrier, Thermo King, Daikin and Starcool.
We offer refrigerator containers of different models, different years of production with the capacity of 2.5 - 10 kW, operating on refrigerant R-134a .
Reefer containers are the refrigeration-heating unit built into the container, specially designed for transportation and storage of fresh and frozen cargo worldwide at any temperatures and climatic conditions.
Any Refrigerated Container has a power supply unit located at the end of the unit. Such a refractory container operates from a 3-phase electrical network (380V/50Hz), and the power consumption depends on the season and the set temperature regime (from 2.5 to 10 kW).
 Modern refrigerated containers have an electronic control unit, which allows you to set and maintain the automatic mode of temperature, humidity, set the frequency of defrost cycle, monitor the operation of major units and record their failure or malfunction.

Reefers can be purchased for storage and transportation of products requiring maintenance of a certain temperature: oil and fat products, meat and fish products, sausages, yogurt, milk, beer, wine, chocolate, vegetables, fruits and others. For today the most known companies on manufacture and sale of reefer containers are the companies:
- Thermoкing
- Daikin      
- StarCool
     The reefer container (reefer) has two main construction blocks: 
1. Construction body
2. reefer unit.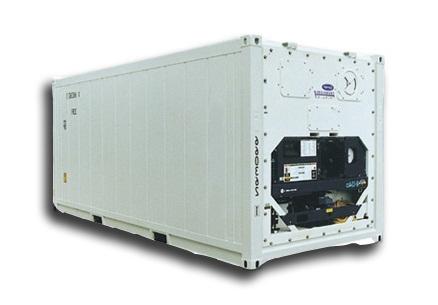 The reefers construction body consists of a supporting frame and polyurethane foam sandwich panels with an external covering made of duralumin sheet (thickness - 2.0 mm) and an internal covering made of profiled food-grade stainless steel sheet (thickness - 0.6 mm). The reefers container floor is made of a T-shaped aluminum profile with a strength designed for use in the processing of conventional warehouse forklifts. 
     The doors are made of the same polyurethane foam sandwich panels as the body and are equipped with special locks to seal the cargo area of the container. 
    The refrigerating unit located in the end of the body maintains in automatic mode inside the container the set temperature in the range from +30 ° C to -30 ° C and is supplied from a 3-phase electrical network with a voltage of 380/460 V and a frequency of 50 Hz. 
    The electronic control unit allows to set and maintain in the automatic mode: temperature, humidity, set the frequency of defrost cycle, monitor the operation of major units and fix their failure or malfunction. At present, it is possible to buy reefers operating mainly with the use of the refrigerants ("freon") "R-134A".
Operation principal of the reefer container
    The air flow at a certain temperature is fed from the reefer unit into the container at floor level, then it passes along the T-profiles of the floor, at the end of the container it rises along the doors to the ceiling and returns to the reefer unit. During circulation, the air heats or cools the internal volume of the refrigerated container, depending on the set parameters, thus providing the temperature and humidity required to support the set storage mode.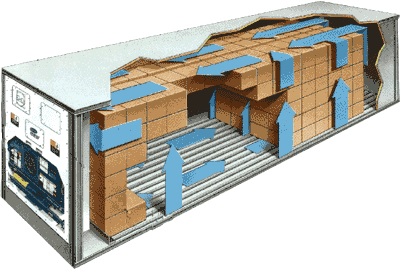 Widely used containers are 20 and 40 foot specimens. 
As reefer containers are made of aluminium alloy and stainless steel, there is no point in buying such an expensive new container, while used reefer containers are much cheaper and differ little from new ones.
Nowadays sale of used reefers in Ukraine rather widespread theme,as Ukraine has an access to the sea, the railway is very well organised. Therefore it is more appropriate to buy your container, so as not to pay rent for stationary warehouses, which are not always convenient for small and medium entrepreneurs.
In the Internet more and more often ads will sell used reefers. Does this mean that the container is sold due to a bad condition or other factors that hinder normal operation? Undoubtedly, there are crooks trying to sell you a bad product, but most sellers of such items have a completely different motivation. The most common reason for selling a product is its uselessness. If you can not determine the condition of the container, it is advisable to seek help from specialists who will sign you and how long the refrigerator container has served, and what was stored in it, and give you information about how long the container will serve.
Refcontainers have found their application in all industries. Almost all large, medium and small companies use them to store their goods, to transport them quickly and reliably. Our containers help many entrepreneurs and can help you too!
1) Main technical specifications:
a) Temperature mode - from -25C to +25C 
(b) Thermal insulation - polyurethane foam 86-147 mm
(c) Operation mode - automatic
d) Power supply - 380V, 50Hz, 3ph/440V, 60Hz, 3ph
e) Inner lining - food-grade stainless steel 
2. Reefer containers are provided with a guarantee period
3. The manual is provided in Russian.
GCS Reefer container ONLY:
- keep your DEMANDING CARGO SAVE
- save YOUR money. 
- receive the QUALITY SERVICE 
Our advantages:
- All reefers undergo mandatory pre-sale training
- All reefers are under warranty.
- All reefers are cleared by customs, we provide a printed customs declaration.
- The latest software is installed in any of our refractory containers to save energy and extend the motor resource of the compressor.
- All Reefer containers are fully diagnostic, which is confirmed by uploading a PTI file. 
5 good reasons - why you need to buy a refrigerator container!
- user-friendliness and ease of maintenance;
- multiple use - temperature range of the refractory container from -25 to +25;
- energy efficiency;
- high mobility - you are not tied to any particular place, if necessary, just move the container to another location;
- When you buy a reefer container, you save yourself the risk of losing money, as in the case of investments in stationary warehouses. Due to its versatility, reliability and ability to work in a wide temperature range, the container is always in demand in the refrigeration equipment market and practically does not depreciate in price over the years.
Thermal, it is a refrigerated container without a unit. 
From any container, we can remove the reefer unit and sell you a thermic body.  
Warranty only on the territory of Ukraine 
- At purchase of the container a guarantee 1 year on mechanical parts of the compressor and the controller