Rent of clip-on diesel generators for refrigerated containers
Global Container Service Ltd offers the service of renting clip-on gensets for companies carrying out transportation of temperature cargoes in reefer containers by means of automobile and railroad communications.
The clip-on gensets is used as a source of electricity for refrigerated containers during the transportation of temperature cargoes.
Characteristics: 
- power: 15 kW
- empty weight: 850 kg 
- overall dimensions: L*B*H 2324*706*1078 mm
By cooperating with us, you will get: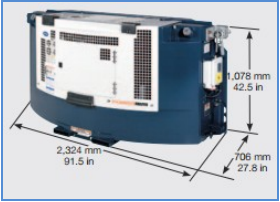 ■Convenient location for clip-on genset intake (41a N.Borovskogo St., Mikron Plant district).
■ Free installation and removal of the clip-on genset on your reefer container.
■Loading and unloading of clip-on gensets is available 24 hours a day, 7 days a week.
■ Electronic ordering system 
■ You can view order status
■ Ability to view the history of all your orders
■ Instant notification to e-mail for delivery and returning the clip-on genset.
■ The reefer can run continuously without refilling the clip-on genset for up to 167 hours.
■ Possibility to pick up CMA-CGM and ZIM refractor jenset for export with PTI test as well as empty CMA-CGM and ZIM containers at the terminal.
■ The availability of clip-on genset that can be attached to container fittings
■ Pre-check of each clip-on genset
■Control of fuel consumption and exhaust motorhours
The cost:
Short-term rent - ( rent up to 6 days) - 150 USD at the rate of the NBU 
Overrun in rent(more than 6 days) - 25 USD /day at the rate of the NBU
Long-term rent 1 month - 600 USD at the rate of NBU
Rent for 6 months 1 month - 400 USD at the NBU rate (saving 1200 USD)
Rent for a period of 12 months 1 month - 300 USD at the rate of the NBU (savings of 3600 USD)
Terms and conditions:
- Signing a cooperation agreement with a full package of documents
- Official registration of each rent trip. 
- Ordering a  clip-on genset online