Reefer container maintenance
G C S - Global Container Service - is the maintenance company where you can request help if your reefer container breaks down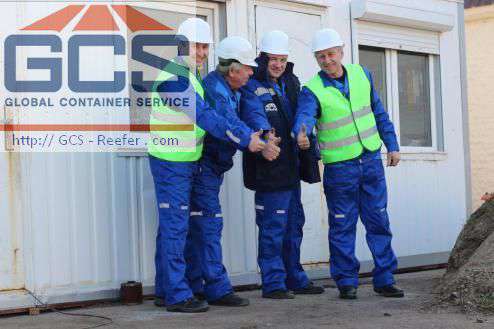 or if you lack an appropriate part for any reefer.
24/7. Please use our 24/7 maintenance number to contact our Maintenance Manager: +38 (063) 101 28 28
Reefer container repairs and maintenance
What do we actually mean by repairs of refrigeration equipment? Sooner or later one part or another might break down. Unfortunately, almost all users happen to face this issue. To find out what part of the reefer is down our experts have to troubleshoot the reefer which includes PTI. Repairs of reefers and their plants should better be done only by professionals.
Our experts can:
remedy the plant's failure
replace parts
select a part compatible with your control unit (otherwise the control unit and the reefer container might not operate properly)
remedy the failure within the reefer
Repairs and preventive measures
Carrier has been in the market for over a century and is acknowledged by core customers in many countries and, generally, around the world. The technology and quality of its products are still at their best. We have been representing and selling most of the company's products for over fifteen years. However Carrier's refrigeration plant are marketed by some other companies. We strive to give our customers competitive prices of those plants and reefer parts. Carrier's products are popular among customers because they have been known for their good performance for many years.
It is very important to have post-warranty maintenance. Carrier regards quality as not just a word but a key to successful work. That is why reefers are repaired only by professionals to guarantee best quality. Lots of official service centers around the world specialize on this company's products.
All experts employed by those service centers have been specifically trained to repair the company's equipment. Only Carrier uses satellite monitoring system. Besides, the company guarantees to deliver parts for reefers to one of the official centers as soon as possible.
Service center employees can urgently repair a refrigerator. This service is carried out within the customer's site and is referred to as field service. An expert can arrive to your site as soon as possible, troubleshoot your equipment and remedy all failures.
All refrigeration equipment repair services are done in time and feature best quality.