About us
The way we work:
Global Container Service is a leading reefer seller. Our leading experts can repair equipment and supply reefers manufactured by Carrier, StarCool, Daikin and ThermoKing to our customers. Our company is the only dealer of StarCool in Ukraine. We can sell or lease out reefers and sell additional parts for them. Our company employs refrigerating engineers with 7 to 30 years of experience. They put lots of effort to guarantee uninterrupted performance of refrigeration equipment to our customers. In addition, they do all necessary troubleshooting confirmed by a PTI upload file. Our experts can also replace any units and plants.
We supply both brand-new and used equipment. All used equipment supplied by Global Container Service has minimum hours of operation. In future the refrigeration equipment will perform all functions of a warehouse for over ten years.
We also lease out diesel generating sets and reefers, and connect those to the mains at one of our terminals. If there is any need for delivery our managers can help you arrange it. Global Container Service provide maintenance for all customer who bought or rented our reefers. Some of our parts are subject to warranty effective for up to 5 years.
Global Container Service which has proved its reputation over the past 9 years supplies reliable products and guarantees quality.
1
Contracts
GCS provides respective sales contracts, customs bills, tax invoices, bills, expenditure invoices, individual reefer card, and PTI uplod files. Read more
2
Maintenance, parts for sale
GCS's experts can perform highest-grade maintenance of rented or sold equipment. We can offer parts for reefers like evaporators, condensers, compressors, pressure sensors, etc. Read more about sales and replacement of parts
3
Reefers for sale
We have 20 and 40 feet reefers manufactured by leading companies like Daikin, ThermoKing, Carrier and StarCool. Read more
4
Rent
GCS's customers can rent reefers and buy them later on. This service can solve the problems you might have with transportation and storage of shipments requiring low temperature. Read more about rent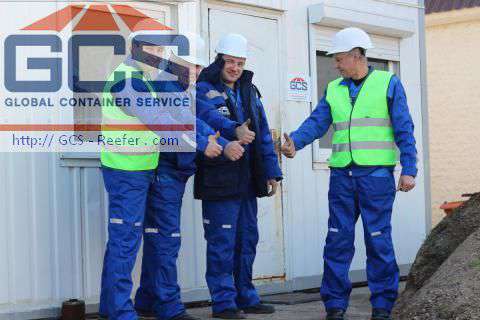 Why GCS?
Global Container Service LTD was founded after rebranding of the well-known company Refholod. Currently we are a successful operator of the international market engaged in sales, rent and repairs of reefers. The company also performs maintenance, sells necessary parts, monitors containers 24/7 all over the world, holds workshops for reefer operation training, and offers advice by highly-skilled experts.
We can supply over 135,000 parts for reefers manufactured by any company
Experience in dealing with liner companies (global carriers)
Delivery of parts to any place around the world
Assistance in selection of parts and other issues