Catalog
Reefer containers catalog
Spare parts
Reefer units
Carrier units
ThermoKing units
Reefer units - Daikin
Clip-on GenSets
Diesel generators ThermoKing
Additional equipment
Services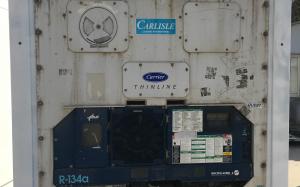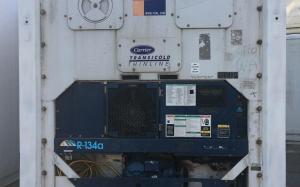 In the company "Global container service" you can buy 5 / 7 / 10 / 20-feet and 40-feet reefer containers. For beginning, you need to decide on the size depending on how much goods need to be stored at low temperatures. The larger reefer container, the higher price. The most expensive element is the reefer unit.
Once you have decided on the size (40 feet or 20 feet, 10 feet, or 7 feet, or 5 feet), you need to choose between aluminum or stainless steel construction body (outer trim). The inside space of the refrigerated container is made of stainless steel. The stainless steel construction body is resistant to external damage when compared to the aluminum construction body. When operating a reefer on railway transport, it is best to choose the iron body construction. Its price is much more expensive.In case of sole transportation it is necessary to limit the price to the stainless aluminium construction body.
Aluminium construction body on refrigerated containers have patches, which remain after repair work. Qualified specialists of our company perform them at the terminals. When refrigerating equipment is in the transport international system, it must be diagnosed and repaired according to all rules and requirements of the manufacturer. The patches prevent the loss of cold. "Global container service" company uses refrigeration units of leading brands: Daikin, Carrier Transcold and Thermoking. They perfectly cope with their main functions, which are keeping the refrigerated container low temperature. There is no principal difference between brands of refrigeration equipment.
What kind of reefers does Global container service sell? - Thermoking is a leading manufacturer that specializes in automotive refrigeration, trailers and spare parts for refrigeration units (usually not many in stock). - The best supplier for spare parts is Carrier Transicold. Among refrigerators, it is best quoted on the market. A huge plus is that Carrier's refrigeration equipment is most often equipped with used spare parts. Carrier reefers have a reliable compressor, which is produced with great modifications almost three decades ago. Today, it is not surprising to find a reefer from the eightieth year, which has acceptable temperature values.
The main advantage of this brand is reliability and durability of operation. Year of manufacture of a refrigerator container is an indicator? In fact, there is no difference in 3-4 years reefer containers. You should pay attention to the technical characteristics. It is necessary to consider: - The difference in operation of reefers, which were produced in one year, can be very large. It is quite logical that the terms of further work will be different. - For high-grade operation of a used container, it is necessary to estimate its real possibilities. Specialists of "Global container service" will help you to choose the necessary equipment and answer all your questions.