Catalog
Reefer containers catalog
Spare parts
Reefer units
Carrier units
ThermoKing units
Reefer units - Daikin
Clip-on GenSets
Diesel generators ThermoKing
Additional equipment
Services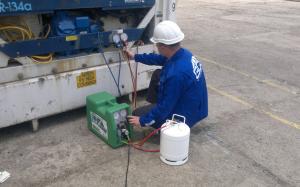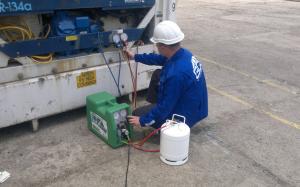 You should know that the reefer container consists of two units: the reefer unit and, directly, the metal housing. It has special fasteners for the installation of a diesel generator, which allows the system to operate smoothly without being connected to the electricity network.
For successful operation of the reefer unit, the refrigerant is required. Specialists of our company use two types of freon - R-134a and R434. There are situations when it is necessary to make replacement. It should be noted that it is forbidden to change R-134a if repair works are required. To make a refueling, it is necessary to connect vacuum to the coupling and carry out primary vacuuming of the unit until the pressure reaches 64 Pa.
What is vacuuming the unit system? This process takes place at a pressure below atmospheric pressure. The purpose is to remove moisture from the system. When the pressure drops, the boiling point drops and the moisture evaporates. Vacuuming the unit is an important process. If the moisture stays in the system for a long time, freon will form acid, which will later corrode the system components. Only after the vacuum is connected to the coupling and complete cleaning can the CFC be refilled.
For this purpose, a protective relay must first be installed on the compressor and the electrical wiring must be switched off. Next, turn on the refrigeration unit and fill it with 40 percent refrigerant. As a rule, it is to be filled in liquid state within five minutes. It should be noted that it is better not to carry out this procedure by yourself. For this purpose, it is necessary to have specialized education. It is best to contact our company "GCS" for troubleshooting and filling with freon. You will avoid unnecessary problems and get a 100% guarantee of system performance.
Once the specialists have filled with CFC, they check the seams with a leak detector and the pipeline on the high pressure side: compressor, filter, condenser and capillary. After that, they switch off the cooling unit and proceed to the pipeline inspection, only now on the bottom side: they diagnose the compressor, the suction pipe and then the evaporator. After the diagnosis of all parts, the secondary vacuumization of the refrigeration system takes at least 20 minutes until the pressure reaches 10 Pa.
After that, it is necessary to switch on the device again and fill the freon. When the refrigeration unit is filled, the refrigerator should be rolled out and the amount of refrigerant corrected, if necessary. The process should be completed by removing the charging tube and the coupling, if necessary solder the tube.