Контейнеры рефрижераторы
More then 100 reefer containers at our terminal , spare parts for any manufactured reefer in stock and by order.
40 feet reefer containers
GCS: a company specialized in sales and maintenance of reefer containers
The company's primary line of business is providing our customers with high-grade and reliable equipment manufactured by the world's leading companies such as Carrier, Thermo King, Daikin and Starcool.
We offer various reefer container models manufactured in different years, featuring capacity of 2.5 to 10 kW, and utilizing
R-134a 
coolant.
A reefer container is a container which incorporates a cooling and heating unit and is designed specifically for carriage and storage of of fresh and frozen products around the world under any temperature and climate conditions.
Any reefer container uses a power supply unit installed at the casing's end. These reefer containers are powered by three-phase power networks (380W/50Hz), and the consumed power depends on the season and chosen temperature scenario (2.5 to 10 kW).
 State-of-the-art reefer containers utilize elctronic control units so as to select and automatically maintain the temperature, humidity, choose defrosting cycle frequency, monitor operation of main plants and reveal and failures or faulty operations.

 Reefer containers can be used for both storage and carriage of products requiring certain temperature scenario like fat-and-oil products, meat and fish, sausages, yoghurt, milk, beer, wine, chocolate, vegetables, fruits, etc. Presently, the most well-known manufacturers and sellers of reefers are:
- Carrier 
- Thermoкing
- Daikin      
- StarCool
     A reefer container incorporates two primary units: 
A reefer container's body uses a supporting frame and polyurethane-foam sandwich panels externally covered with 2.0 thick duralumin plates and internally covered with 0.6 mm thick, shaped, sheet, food-grade, stainless steel. 50% of each reefer container is made of strong T-shaped aluminum sections which allow using standard warehouse loaders for cargo handling purposes. 
The doors are made of the same 
polyurethane-foam sandwich panels and utilize special-purpose 
bolts so as to seal the container's cargo section. 
The refrigeration plant installed at the casing's end automatically maintains the desired temperature level within the container between +30°С and -30° С and is powered by a three-phase power network with 380/460V voltage and 50 Hz frequency. 
  The electronic control unit is there to select and automatically support the temperature and air humidity, set the defrosting cycle frequency, monitor operation of primary units and reveal any failures or faulty operations. Most reefer containers which are currently available for sale utilize R-134А coolant (or freon).
Reefer container operation philosophy
    The air supplied by the refrigeration plant at a desired temperature level comes into the body through floor-level outlets, then runs along the floor's T-shaped sections, reaches the container's end, rises along the doors toward the ceiling and, finally, along the ceiling it go back into the refrigeration plant. Depending on the settings, the air circulation either heats up or cools down the reefer's inner space to keep up the temperature and humidity and maintain the desired product storage scenario.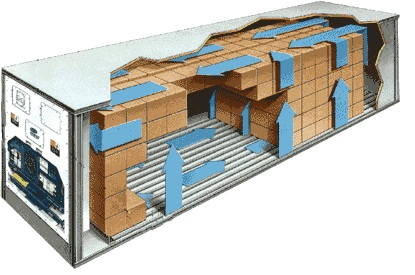 The most popular versions are 20 and 40 feet reefer containers. 
Since these reefer containers made of aluminum alloy and stainless steel are quite durable, there is not point to buy very expensive new reefers, for used reefers are much cheaper and are not really different from new ones.
Currently, sales of used reefers are quite popular within Ukraine, because Ukraine has well-developed railways and access to the sea. Therefore, it would be reasonable to purchase a reefer container in order to avoid paying rent for permanent warehouses which are not always convenient for small or medium-scale companies.
Internet displays more and more ads offering used reefer containers for sale. Does that mean that the offered reefer container is in a poor condition or that there are circumstances hampering the ordinary course of operation? There definitely fraudsters trying to sell flawed products, but most reefer sellers have absolutely different reasons. Most commonly, reefers are sold because they are no longer needed. If you cannot assess a reefer container you should better request help from experts who can tell you for how long it had been in use, what was stored in it, and specify for how long it will last.
Reefer containers are used by all industries. Almost all large, medium and small-scale companies use them to store and ensure fast and reliable carriage of their products. Our reefer containers are already helping many businessmen and can help you as well!
1.

Primary specifications:
a)
Temperature scenario: -25 to +25
°C
b)

Thermal insulation: 86 to 147 mm thick 
polyurethane foam
d)

Power supply: 380V, 50Hz, 3ph/440V, 60Hz, 3ph
e)

Inner lining:  food-grade stainless steel
3.

Operation manual available in Russian
ONLY GCS's reefer containers can:
•
preserve YOUR SENSITIVE CARGO
•
undergo HIGH-QUALITY MAINTENANCE 
Our advantages:
•

All  reefer containers are subject to obligatory pre-sales preparation 
•

Warranty applies to all reefer containers
•

All reefer containers have been customs-cleared. We supply relevant customs bills in print
•

All reefer containers incorporate latest software to lower electricity usage and extend the compressor's life time
•

All reefer containers undergo thorough examination which is confirmed by an uploaded PTI file
5 good reasons you need to buy a reefer container!
•
  It is user-friendly and easily serviced
•  It is multi-functional and can maintain temperature between -25 and +25 
°C
;
•  It helps lower electricity usage
•  It is highly mobile, and, therefore, you don't have to be confined to a particular spot, for, if necessary, you can move your container anywhere you like
•

If you buy a reefer container you do not risk the money you invest, which is not the case with permanent warehouses. These multi-purpose and reliable containers offering a wide temperature range always stay in demand in the refrigeration equipment market and virtually lose no value with time.
A thermal chamber is a reefer container without the plant. 
We can take the refrigeration plant off and sell you the thermal chamber.  
The warranty applies only within Ukraine 
•

Any purchased reefer container comes with a one-year warranty for the control unit and compressor's mechanical parts