StarCool plants
StarCool refrigeration plants demonstrate reliability and durability. It combines two of MCI's unique developments meant to guarantee minimum operation cost.
StarCool refrigeration plants are as powerful as their competitors.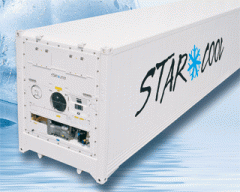 Advantages and features of a built-in system:
·        Without the StarCool system's frame you will get 100 more kilograms of load-carrying capacity
·        The front wall's thermal insulation layer lowers heat leak and removes thermal bridges
·        Better air circulation
·        High durability
Normally, refrigeration plants are screwed to reefer containers' frames installed on the outer side. To avoid any unwanted heat leaks the two parts are separated by isothermal padding. As soon as the padding wears out, the frame loses some of its leak resistance and rigidity which might result in increased electricity usage and heat loss. Our experts have solved this problem. They removed the plant's frame to get 100% insulation of the front wall. In addition, reefer containers are now more lightweight and their walls are rigid. Thus, we have enhanced the energy performance and got rid of thermal bridges.